Discover the amazing new features in PrestaShop 8.1
---
All-new product management page
Managing the store's catalog has never been easier, thanks to a completely redesigned product management page. The page has been rebuilt from the ground up for increased usability and performance, allowing merchants to find their way across the page more easily and help them work more efficiently.
The new product management page is the result of years-long work involving in-depth interviews and collaboration with merchants from a diverse range of ecommerce backgrounds. This valuable feedback has helped craft a new page that addresses the needs of big and small businesses, making it truly versatile and efficient.
In PrestaShop 8.1, if you would like, you can keep your old product page. In PrestaShop 9.0, there will be only one product management page.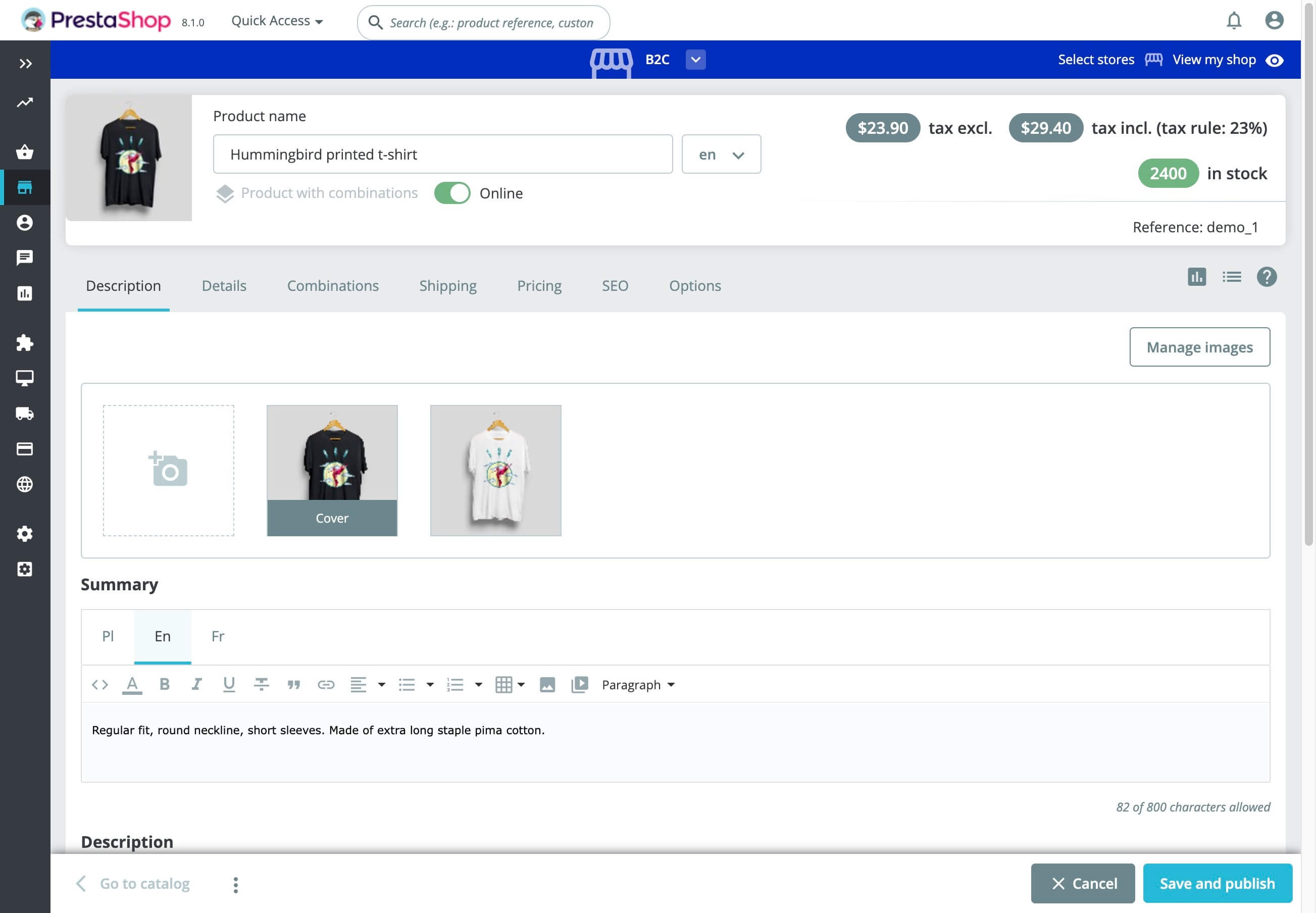 ---
Radically improved management of products with combinations
The completely renewed combination management interface brings more efficient navigation and edition, coupled with spectacular performance improvements compared to previous PrestaShop versions. Quickly select attributes thanks to filters in the new combination generator interface, and generate hundreds of them in just a few seconds. Yes, in seconds!
Editing combinations has also been made easier and more powerful than ever, with a modal interface to edit individual combinations, as well as new, improved filter-based bulk actions. They make tasks like assigning images to combinations based on attributes a matter of only a few clicks. In addition, PrestaShop now displays a new progress bar while processing data, keeping the user informed of what's going on, and providing helpful information if something goes wrong.
All results are based on tests performed on a local machine with Apple M1 Max processor and 32GB RAM. Clean PrestaShop installation, no multi-store.
Refined price, taxes, and stock management
Merchants can optimize their pricing thanks to a redesigned price section. Information is now organized more clearly, and tax calculation has been simplified by showcasing the impact of taxes as an operation. The new summary also highlights key price information, including the calculated gross profit margin.
Stock management has also been significantly improved. Quantities are now modified through addition and subtraction, ensuring accurate stock calculation even when a sale occurs while the merchant is working on their product. To help understand the product's stock situation, this section now also displays the last five stock movements, including order-related stock changes such as sales and product returns.
More efficient and quicker image management
Bulk actions for image management now make performing repetitive tasks much faster. In addition, replacing existing images is now possible, saving merchants the trouble of having to rewrite captions and reassigning images to combinations or stores.
Manage multistore products is now easier and more intuitive
Assigning products to a specific store, understanding when you are accessing products not associated with the current store, and managing products across multiple stores have been made easier and more intuitive.
A dedicated checkbox allows you to choose whether to apply changes to the current store or to all stores. Assigning a product to a store is now done through the new multistore header, ensuring that no products are accidentally created in a new store.
The product listing experience has been enhanced for multistore. When in the all-store view, products are now consolidated into a single line for each product, which can be expanded to preview product details for each individual store, enabling merchants to see differences at a glance.
When in multistore mode, actions in the product list now adapt dynamically based on your multistore selection, and any change made will impact all associated stores, ensuring a consistent and seamless update across your entire store network.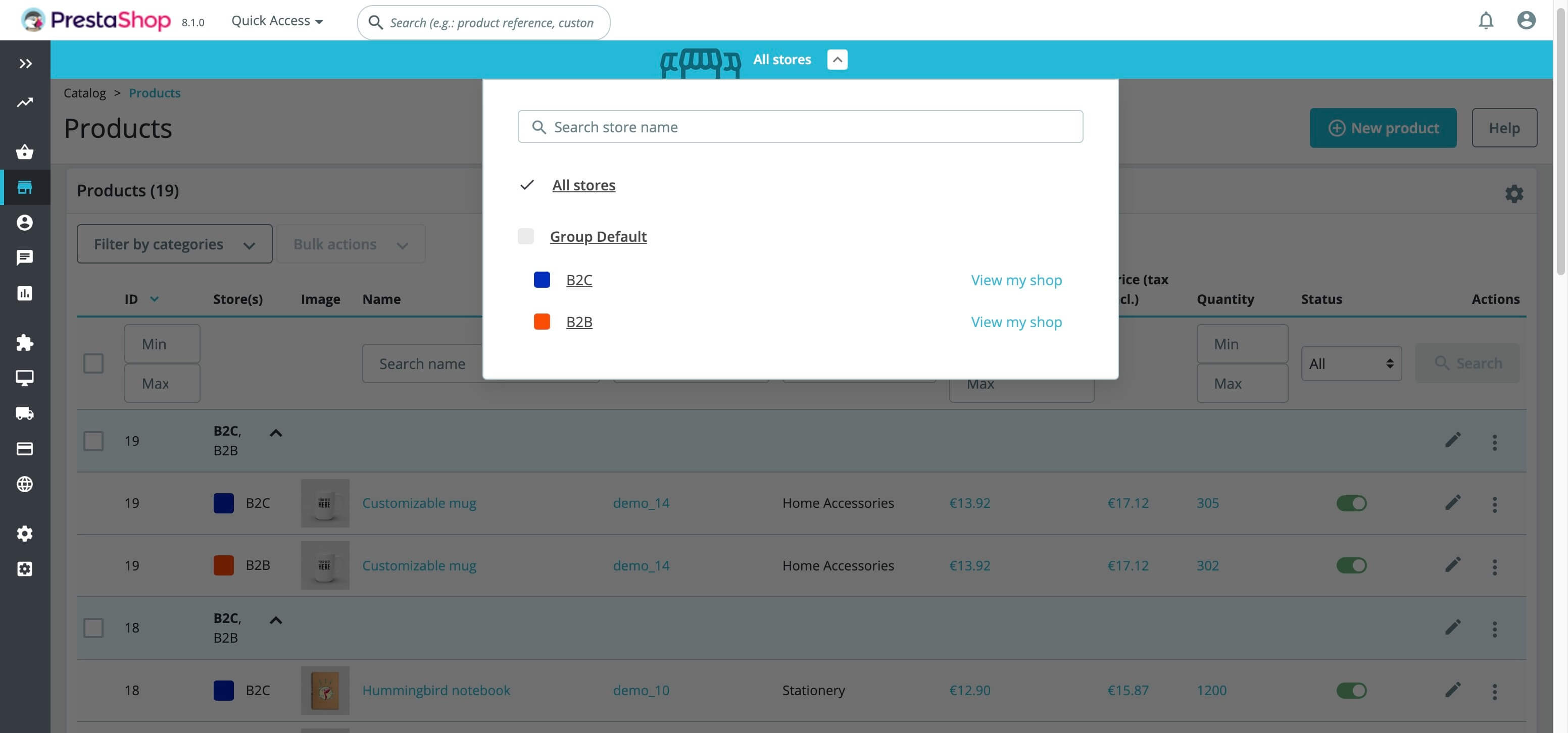 Choosing and changing product type
Creating a new product is now easier than ever. A handy new popup helps you choose and understand the product type that best fits your needs – right from the start. If you change your mind, modifying a product's type has also been made easier.
---
Want to learn more about the new product page?